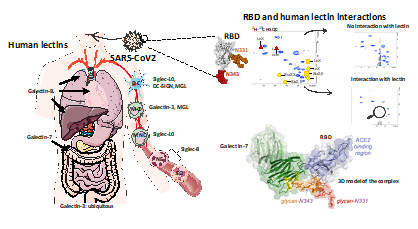 2020/09/17
The structures of the glycan chains of the receptor binding domain (RBD) of the SARS-CoV-2 spike glycoprotein expressed in human HEK293F cells have been disentangled by NMR
The structures of the glycan chains of the receptor binding domain (RBD) of the SARS-CoV-2 spike glycoprotein expressed in human HEK293F cells have been disentangled by NMR. Moreover, the interactions of the RBD 13C-labelled glycans with different human lectins, which are expressed in different organs and tissues that may be affected during the infection process, have also been evaluated by NMR. Different 15N-labelled galectins, siglecs and C-type lectins have been scrutinized, unravelling the specific interacting epitopes. This research, carried out at CIC bioGUNE thanks to the joint efforts of different research groups, opens new avenues to evaluate at high resolutions diverse molecular recognition mechanisms involving the SARS-CoV-2 spike glycoprotein.
The investigation has been published in Angewandte Chemie International Edition: Structural characterization of the N-linked glycans in the receptor binding domain of the SARS-CoV-2 spike protein and their interactions with human lectins using NMR spectroscopy.

Maria Pia Lenza, Iker Oyenarte, Tammo Diercks, Jon Imanol Quintana, Ana Gimeno, Helena Coelho, Ana Diniz, Francesca Peccati, Sandra Delgado, Alexandre Bosch, Mikel Valle, Oscar Millet, Nicola G. A. Abrescia, Asís Palazón, Filipa Marcelo, Gonzalo Jiménez-Osés, Jesús Jiménez-Barbero, Ana Ardá, and June Ereño-Orbea.

(https://onlinelibrary.wiley.com/doi/epdf/10.1002/anie.202011015).
See a large version of the first picture