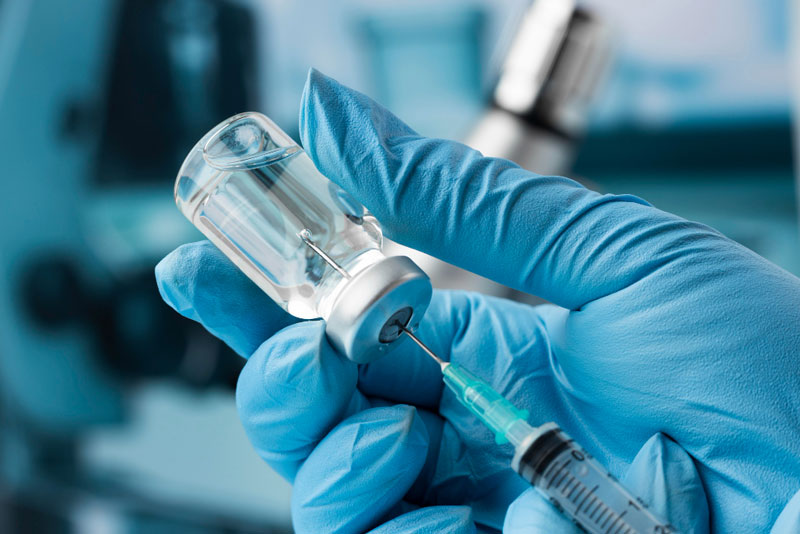 2022/07/19
The SPIDVAC consortium, of which CIC bioGUNE is a member, awarded EUR 5 million to develop innovative vaccines
Thirteen European and African research centers will develop innovative vaccines against African horse sickness, peste des petits ruminants and foot-and-mouth disease.
The consortium members will evaluate the capabilities of vaccines in vitro, demonstrate the safety and efficacy of candidate vaccines in small-animal models and in the target species, and develop companion diagnostics to reliably differentiate between infected and vaccinated animals.
The SPIDVAC consortium, of which CIC bioGUNE - a member of the Basque Research & Technology Alliance, BRTA - is a member, has been awarded EUR 5 million under the EU-Horizon Europe programme to develop innovative vaccines against African horse sickness, peste des petits ruminants (or small ruminant plague) and foot-and-mouth disease viruses over the next 42 months.
The SPIDVAC (Safe Priority Infectious Diseases VACcines) consortium consists of 13 research centers from Germany, France, Spain, the UK, the Netherlands, South Africa and Senegal, which will develop pioneering vaccines, evaluate their in vitro capabilities, demonstrate their safety and efficacy in animal models and develop diagnostics to reliably differentiate between infected and vaccinated animals.
The events of the last three years have highlighted the importance of research in virology and immunology. Readiness for action when pandemics strike is based on years of basic knowledge accumulated over time and the constant development of technology. The study of viruses that infect humans and/or animals, whether from a basic, clinical or translational point of view, is of benefit to society, enabling the development of new intervention strategies.
Current vaccines against African horse sickness, small ruminant plague and foot-and-mouth disease viruses have critical shortcomings that leave the European Union vulnerable to these Category A transboundary animal diseases. Furthermore, control strategies that rely solely on culling go increasingly against public opinion. The risk of the introduction of African horse sickness, small ruminant plague and foot-and-mouth disease into Europe is growing, driven by climate change, global trade and long-distance travel.
SPIDVAC will also further knowledge on the mechanisms of infection, virulence and immunity, and will study the acceptability of vaccines. The consortium includes industry partners for veterinary vaccines and diagnostic tools, which will ensure technological readiness and market introduction. In turn, this will help policymakers, veterinary services and industry to reduce the burden of infectious animal diseases, contribute to a sustainable livestock industry and promote animal and public health from farm to fork.
The leader of the SPIDVAC project at CIC bioGUNE is Nicola G. A. Abrescia, Ikerbasque Research Professor and Head of the Structure and Cell Biology of Viruses Laboratory. Dr. Abrescia's laboratory will focus on structural research into Multimeric Protein Scaffold Particle (MPSP) and Disabled Infectious Single Animal (DISA) vaccines. Examining antigen presentation and the multivalency of the MPSP particle-based vaccines, as well as capsid assembly for DISA vaccines, will guide vaccine design and optimization. To this end, Dr. Abrescia will use cryo-EM and cryo-ET techniques, taking advantage of the infrastructure and resources available at CIC bioGUNE and at the Basque Resource for Electron Microscopy (BREM).
About CIC bioGUNE
The Center for Cooperative Research in Biosciences (CIC bioGUNE), located in the Bizkaia Technology Park, is a biomedical research organization conducting cutting-edge research at the interface between structural, molecular and cell biology, with a particular focus on the study of the molecular bases of disease, for use in the development of new diagnostic methods and advanced therapies.
About Ikerbasque
Ikerbasque - the Basque Foundation for Science - was created as the result of an initiative of the Basque Government Department of Education to further strengthen its commitment to scientific research by attracting, bringing to the Basque Country and subsequently consolidating excellent researchers from all over the world. Today, Ikerbasque is a consolidated organization with 290 researchers working in all fields of knowledge.
About the BRTA
The BRTA is an alliance made up of 4 collaborative research centers (CIC bioGUNE, CIC nanoGUNE, CIC biomaGUNE and CIC energiGUNE) and 12 technology centers (Azterlan, Azti, Ceit, Cidetec, Gaiker, Ideko, Ikerlan, Lortek, Neiker, Tecnalia, Tekniker and Vicometch), with the aim of developing advanced technological solutions for Basque companies.
With the support of the Basque Government, the SPRI Group and the Provincial Councils of the three regional provinces, the alliance seeks to promote collaboration among its centers, to strengthen the conditions to generate and transfer knowledge to companies, contributing to their competitiveness, and to spread Basque scientific and technological capacity outside of the Basque Country.
BRTA has a staff of 3,500 professionals, accounts for 22% of the Basque Country's R&D investment, generates an annual turnover of over EUR 300 million and files 100 European and international patents per year.
See a large version of the first picture