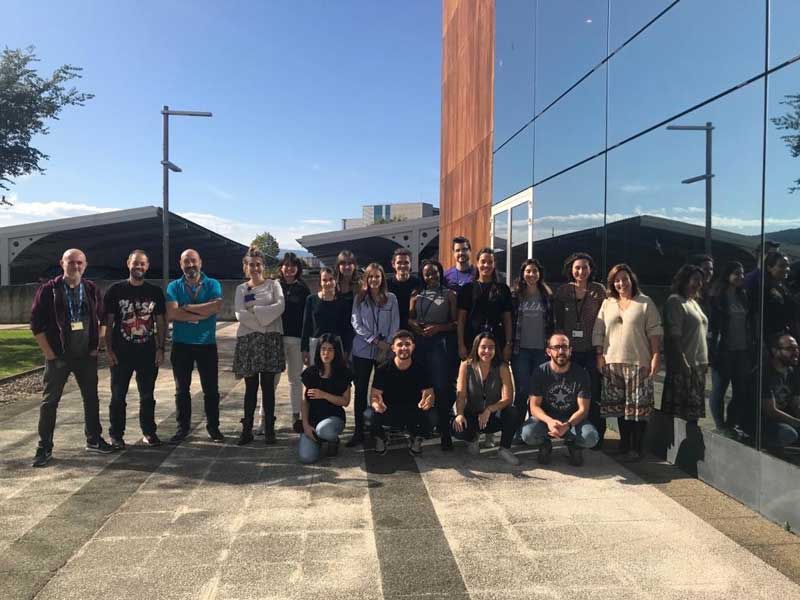 2020/07/07
Research by CIC bioGUNE identifies GalNAC-MCJ as a promising therapeutic agent for patients with fatty liver
Preclinical studies have been conducted in fatty liver toxicity models with GalNAC molecules, designed by Alnylam Pharmaceuticals, targeting the mitochondrial respiratory chain inhibitor MCJ.
The work, led by Dr. Malu Martínez Chantar, has been published in the journal Nature Communications.
(Bilbao, 7 July 2020). The GalNAC-MCJ molecule is a promising therapeutic agent for patients with fatty liver and advanced stages of liver disease, according to the findings of a study conducted by a team from CIC bioGUNE - member of the Basque Research & Technology Alliance BRTA - led by Dr.Malu Martínez Chantar.
The lead author of the study, published in the journal Nature Communications, is Dr. Lucía Barbier Torres (CIC bioGUNE). The work has involved conducting pre-clinical studies on models of fatty liver toxicity with GalNAC molecules, designed by Alnylam Pharmaceuticals, targeting the mitochondrial respiratory chain inhibitor MCJ.
"Mitochondria are the main energy organelles of our cell and are essential to actively metabolize the accumulation of lipids that induce a toxic response associated with this pathology of the liver. Therefore, mitochondria are one of the first barriers of defence of our liver and lose their activity in advanced stages of the disease", explains Dr. Malu Martínez Chantar.
It is estimated that about 1.5 billion people suffer from fatty liver. This abnormal accumulation of lipids in liver tissue produces an inflammatory response and subsequent induction of collagen by so-called stellate cells, which can eventually lead to the development of fibrosis and severe liver dysfunction.
15% of patients with mild liver disease progress to more advanced and severe stages of the disease, such as fibrosis, cirrhosis and, finally, liver cancer, this latter percentage being close to 10%. In fact, epidemiological data suggest that the incidence of liver cancer derived from fatty liver has increased significantly compared to other historically prevalent aetiologies such as viral hepatitis.
The research was conducted at the CIC bioGUNE Liver Disease laboratory, led by Dr. Malu Martínez Chantar, researcher at CIC bioGUNE and at the Biomedical Research Centre Network for Liver and Digestive Disorders (CIBERHD), in collaboration with Dr. Mercedes Rincón, from the University of Colorado (Anschutz Medical Campus of Medicine), and Dr. Juan Anguita (CIC bioGUNE), within a consortium of national and international scientists from hospitals and from basic and translational research centers such as Hospital Marqués de Valdecilla (Santander), Geisel School of Medicine in Dartmouth (United States), Department of Physiology of the Faculty of Medicine and Nursing of the University of the Basque Country (UPV/EHU), Biocruces, Instituto de Investigación Sanitaria Hospital Universitario de la Princesa and the University of Colorado (United States).
About CIC bioGUNE
The Centre for Cooperative Research in Biosciences (CIC bioGUNE), located in the Bizkaia Technology Park, is a biomedical research organisation conducting cutting-edge research at the interface between structural, molecular and cell biology, with a particular focus on generating knowledge on the molecular bases of disease, for use in the development of new diagnostic methods and advanced therapies. CIC bioGUNE has been accredited as a "Severo Ochoa Centre of Excellence", the highest level of recognition for centres of excellence in Spain.
About the BRTA
The BRTA is an alliance formed by 4 collaborative research centers (CIC bioGUNE, CIC nanoGUNE, CIC biomaGUNE and CIC energiGUNE) and 12 technology centers (Azterlan, Azti, Ceit, Cidetec, Gaiker, Ideko, Ikerlan, Lortek, Neiker, Tecnalia, Tekniker and Vicometch), with the aim of developing advanced technological solutions for Basque companies.
With the support of the Basque Government, the SPRI Group and the Provincial Councils of the three territories, the alliance seeks to promote collaboration among its centers; to strengthen the conditions to generate and transfer knowledge to companies, contributing to their competitiveness; and to spread Basque scientific and technological capacity.
BRTA has a staff of 3,500 professionals, executes 22% of Euskadi's R&D investment, generates an annual turnover of more than 300 million euros and files 100 European and international patents per year.
See a large version of the first picture