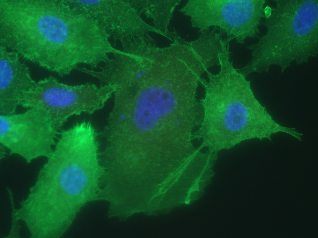 2019/10/17
New study links the metabolic regulator PGC1A to the control of prostate cancer cell invasion
Cancer cells exploit a plethora of molecular pathways to prevail and dominate in the face of a hostile environment. Metabolism is one such process that cancer cells will tune and reprogram. In this context, the metabolic regulator PGC1α was previously reported by the Carracedo group as a brake for prostate cancer progression, owing to its role in the control of anabolism (the production of building blocks for the generation of new cells). New research published in Cancer Research reveals that PGC1α exerts tumor suppressive activities in this tumor type beyond cell growth. Through a variety of cellular assays, Valcarcel, Macchia et al., reported that the activation of PGC1α promoted the action of the nuclear receptor ERRα to hamper the capacity of prostate cancer cells to move and invade matrices. This observation was accompanied by molecular changes suggestive of cytoskeletal alterations (the molecular scaffold that controls cell architecture and movement). Mechanistically, the action of PGC1α stems from the transcriptional control of the oncogene MYC. The authors found that PGC1α directly binds to MYC promoter and negatively regulates its expression, which was corroborated in human prostate cancer specimen analysis. These results shed light to the intricate association between molecular alterations that converge in the acquisition of aggressive features in cancer.
Reference:
PGC1α suppresses prostate cancer cell invasion through ERRα transcriptional control. Valcarcel-Jimenez L, Macchia A, Crosas-Molist E, Schaub-Clerigué A, Camacho L, Martín-Martín N, Cicogna P, Viera-Bardón C, Fernández-Ruiz S, Rodriguez-Hernandez I, Hermanova I, Astobiza I, Cortazar AR, Corres-Mendizabal J, Gomez-Muñoz A, Sanz-Moreno V, Torrano V, Carracedo A. Cancer Res. 2019 Oct 8. pii: canres.1231.2019. doi: 10.1158/0008-5472.CAN-19-1231.
Caption: Prostate cancer cells expressing PGC1A exhibit cytoskeletal alterations compatible with loss of cell motility and invasion. Phalloidin staining is shown in green, nuclear staining in blue.
See a large version of the first picture