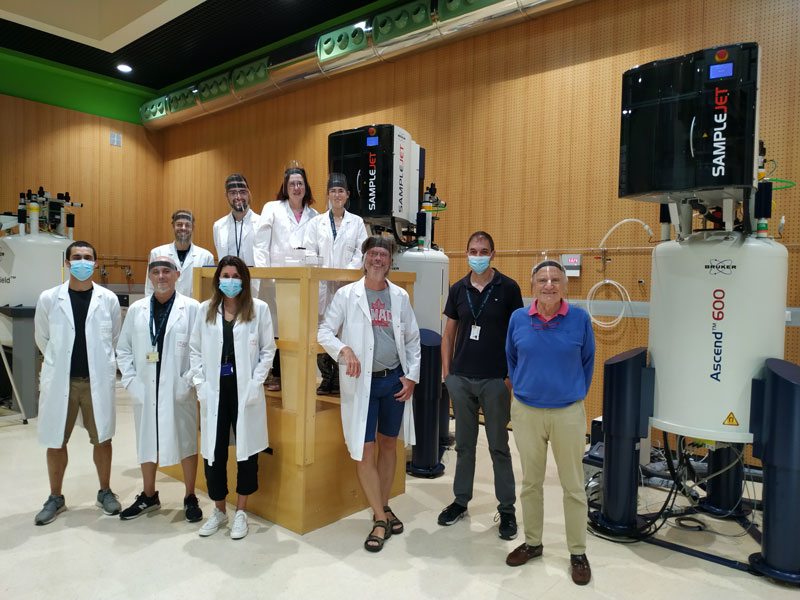 2020/08/13
CIC bioGUNE research reveals that a high accumulation of porphyrins is a relevant marker of Covid-19
The article, published in the British Journal of Haematology, confirms that correcting these values may alleviate some of the symptoms of more critically ill patients.
The work provides an insight into the haematological disorder associated with Covid-19.
(Bilbao, 13 August 2020). Research conducted by a team from CIC bioGUNE, a member of the Basque Research & Technology Alliance (BRTA), has shown that Covid-19 patients have an abnormal concentration of porphyrins in their serum.
The research, published in the British Journal of Haematology, has found that critically ill patients suffer from a blood alteration, with an accumulation of porphyrins, as a result of the disorder found in the metabolism of the heme group and haemoglobin, a protein in red blood cells that carries oxygen in the blood from the respiratory organs to the tissues.
"The symptomatology of Covid-19 was initially indicative of a pulmonary disease. However, it has been seen to be far more complex than that, and that there are a number of significant haematological disorders," explains Óscar Millet, head of the Precision Medicine and Metabolism Laboratory at CIC bioGUNE. One of those disorders is a lack of oxygen, which is not perceived and is believed to possibly be attributable to a hormonal issue. "Severe Covid-19 patients have a lack of oxygen in their blood, even though they do not notice any difficulty in breathing. The harsh reality is that those who are infected eventually suffocate," he adds, emphatically.
That symptom of a lack of oxygen led the research group at CIC bioGUNE to consider there might be a disorder in the haemoglobin metabolism itself. This line of investigation was guided by their experience in the field of porphyria. The findings will contribute to a better understanding of what can be done to improve the symptoms in critically ill patients affected by SARS-CoV-2.
When the body of a Covid-19 patient detects a lack of haemoglobin, it tries to produce more, which in turn leads to a build-up of haemoglobin. "Identifying this accumulation of porphyrin markers is another sign of the disease. Correcting these values may alleviate some of the symptoms of more critically ill patients", Dr Millet points out.
The study has been funded with a grant in excess of EUR 100,000 awarded by the Department of Economic Development and Infrastructure of the Basque Government, through the special call for research into Covid-19. The article is part of the doctoral thesis of the researcher Itxaso San Juan. Those involved in the research itself include Ganeko Bernardo, Maider Bizkarguenaga, Chiara Bruzzone, Nieves Embade and Óscar Millet himself, together with José María Mato, General Director of CIC bioGUNE.
To conduct this research, the team led by Dr Millet has used the serum taken from 300 seriously ill, symptomatic and PCR test-confirmed Covid-19 patients, from Cruces University Hospital and Basurto University Hospital.
About CIC bioGUNE
The Centre for Cooperative Research in Biosciences (CIC bioGUNE), located in the Bizkaia Technology Park, is a biomedical research organisation conducting cutting-edge research at the interface between structural, molecular and cell biology, with a particular focus on generating knowledge on the molecular bases of disease, for use in the development of new diagnostic methods and advanced therapies. CIC bioGUNE has been accredited as a "Severo Ochoa Centre of Excellence", the highest level of recognition for centres of excellence in Spain.
About the BRTA
The BRTA is an alliance formed by 4 collaborative research centers (CIC bioGUNE, CIC nanoGUNE, CIC biomaGUNE and CIC energiGUNE) and 12 technology centers (Azterlan, Azti, Ceit, Cidetec, Gaiker, Ideko, Ikerlan, Lortek, Neiker, Tecnalia, Tekniker and Vicometch), with the aim of developing advanced technological solutions for Basque companies.
With the support of the Basque Government, the SPRI Group and the Provincial Councils of the three territories, the alliance seeks to promote collaboration among its centers; to strengthen the conditions to generate and transfer knowledge to companies, contributing to their competitiveness; and to spread Basque scientific and technological capacity.
BRTA has a staff of 3,500 professionals, executes 22% of Euskadi's R&D investment, generates an annual turnover of more than 300 million euros and files 100 European and international patents per year.
See a large version of the first picture