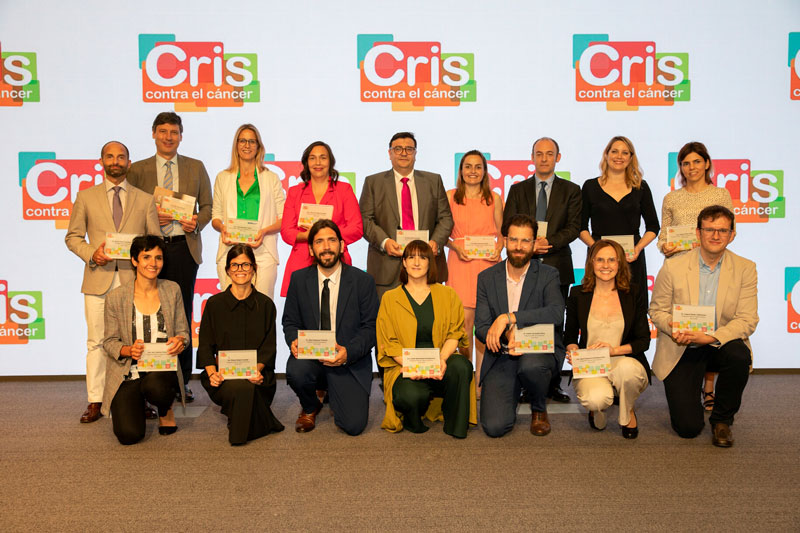 2022/06/06
Arkaitz Carracedo and Isabel Mendizabal receive support from the CRIS Research Programme
After a thorough selection process, CRIS Against Cancer has identified 17 outstanding researchers, 10 women and 7 men, to develop improved therapies for cancer patients.
CRIS Research Programmes provide resources, means and stability to relevant projects that will change cancer treatments to increase the survival and quality of life of cancer patients.
Over the last three years, CRIS Against Cancer has awarded its CRIS Research Programme grants for advance research into this disease to 17 prestigious scientists, including Arkaitz Carracedo, Research Group Head at CIC bioGUNE and Ikerbasque Research Professor, and Isabel Mendizabal, post-doctoral researcher at CIC bioGUNE and Ikerbasque researcher.
These ambitious programmes, which in just three years have become a benchmark in Spain and Europe in terms of investment in research, address different needs, and are particularly attractive to researchers on account of the funding available (up to EUR 1,250,000) and their duration (five years), which enables researchers to develop their projects under better conditions.
Arkaitz Carracedo was awarded a grant last year for research into prostate cancer within the CRIS Excellence Programme, worth EUR 1,250,000 over five years. The Programme is designed to promote the development of outstanding researchers in clinical and translational cancer programmes, with projects with the clear potential to make a real impact on patient treatment.
Isabel Mendizabal was awarded a grant in 2020 under the five-year EUR 400,000 CRIS Post-Doc Talent Programme, which provides incentive and competitive economic conditions to attract and consolidate outstanding young researchers with leadership potential and the capacity to change the landscape of cancer treatment. Her research is also focused on prostate cancer.
About CIC bioGUNE
The Centre for Cooperative Research in Biosciences (CIC bioGUNE), located in the Bizkaia Technology Park, is a biomedical research organisation conducting cutting-edge research at the interface between structural, molecular and cell biology, with a particular focus on the study of the molecular bases of disease, for use in the development of new diagnostic methods and advanced therapies.
About the BRTA
The BRTA is an alliance made up of 4 collaborative research centres (CIC bioGUNE, CIC nanoGUNE, CIC biomaGUNE and CIC energiGUNE) and 12 technology centres (Azterlan, Azti, Ceit, Cidetec, Gaiker, Ideko, Ikerlan, Lortek, Neiker, Tecnalia, Tekniker and Vicometch), with the aim of developing advanced technological solutions for Basque companies.
With the support of the Basque Government, the SPRI Group and the Provincial Councils of the three regional provinces, the alliance seeks to promote collaboration among its centres, to strengthen the conditions to generate and transfer knowledge to companies, contributing to their competitiveness, and to spread Basque scientific and technological capacity outside of the Basque Country.
BRTA has a staff of 3,500 professionals, accounts for 22% of the Basque Country's R&D investment, generates an annual turnover of over EUR 300 million and files 100 European and international patents per year.
About Ikerbasque
Ikerbasque - the Basque Foundation for Science - was created as the result of an initiative of the Basque Government Department of Education to further strengthen its commitment to scientific research by attracting, bringing to the Basque Country and subsequently consolidating excellent researchers from all over the world. Today, Ikerbasque is a consolidated organisation with 290 researchers working in all fields of knowledge.
See a large version of the first picture