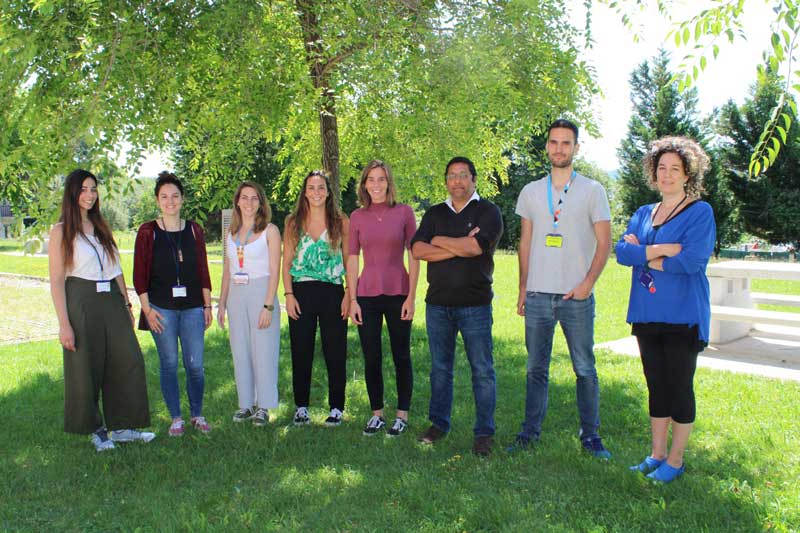 2020/06/30
CIC bioGUNE research opens up avenues for treating a highly aggressive cancer of the nervous system
The study identifies a protein (HuR/ELAVL1) as key for the growth and metastasis of malignant peripheral nerve sheath tumours.
The findings indicate that inhibition of this protein represents a possible therapeutic target to attack this sarcoma that affects both children and adults.
The study, led by Dr. Ashwin Woodhoo, Ikerbasque researcher at CIC bioGUNE, has been published in the Journal of Clinical Investigation.
(Bilbao, 30 June 2020). A research team from CIC bioGUNE - a member of the Basque Research & Technology Alliance BRTA - led by Dr. Ashwin Woodhoo, an Ikerbasque researcher, has shown that suppressing the expression and function of the protein HuR/ELAVL1 by genetic and pharmacological means reduces tumour growth and metastasis in malignant peripheral nerve sheath tumours in mice models.
Malignant peripheral nerve sheath tumours (MPNSTs) are highly aggressive sarcomas with a high metastatic potential, usually to the lung, that affect both children and adults. MPNST patients have a high propensity for relapse following tumour resection and poor responses to cytotoxic chemotherapy and irradiation, resulting in a high mortality rate.
In addition, clinical trials aimed at targeting various signalling pathways in MPNSTs have had disappointing results. "Inhibiting the HuR protein is an attractive strategy towards a viable therapeutic target in MPNST", Dr. Ashwin Woodhoo explains. The study has been published in the Journal of Clinical Investigation, a prestigious journal in the field of experimental medicine.
Gene dysregulation is a hallmark of cancer cells. Genetic alterations in cancer cells invariably lead to a global remodelling of their transcriptome, enabling them to acquire advanced functional capabilities for survival, proliferation and dissemination.
Dr. Woodhoo further explains: "In this study, we have identified the RNA-binding protein HuR/ELAVL1 as a central oncogenic driver for malignant peripheral nerve sheath tumours. HuR helps to establish the key intricate regulatory networks operating in MPNSTs to coordinate the different features of the cancer. Thus, by elevating HuR levels, MPNST cells have developed an adaptive mechanism to amplify and regulate key oncogenic signals and modulate transcriptional programs which give these cancer cells a competitive advantage, promoting MPNST growth and metastatic spread".
"More specifically, we have explored this addiction of MPNST cells to HuR to show that this protein represents an ideal therapeutic target for MPNST treatment. Using mice models, we have shown that suppressing HuR expression and function by genetic and pharmacological means reduces tumour growth and even metastasis, one of the worst prognostic features of this cancer", Dr. Woodhoo adds.
The research has been designed and led by Dr. Ashwin Woodhoo, Ikerbasque researcher and Head of the Nerve Disorders Laboratory at CIC bioGUNE, in close collaboration with Dr Marta Varela Rey (CIC bioGUNE-Ciberehd). The work has been done mainly, in equal contribution, by the researchers of Dr. Woodhoo's team Dr Marta Palomo-Irigoyen, Dr Encarni Pérez-Andrés and Dr Marta Iruarrizaga-Lejarreta, with the involvement of numerous other researchers from Spain, USA, UK, Switzerland, Italy and Luxembourg, reflecting the truly international spirit of scientific discoveries nowadays.
This project has been made possible thanks to funding from the Spanish Association for Research against Cancer (AECC) and EiTB Maratoia, and has been supported by the Basque Government, the Ministry of Science, Innovation and Universities, the BBVA Foundation and the European Research Council (ERC).
About CIC bioGUNE
The Centre for Cooperative Research in Biosciences (CIC bioGUNE), located in the Bizkaia Technology Park, is a biomedical research organisation conducting cutting-edge research at the interface between structural, molecular and cell biology, with a particular focus on generating knowledge on the molecular bases of disease, for use in the development of new diagnostic methods and advanced therapies. CIC bioGUNE has been accredited as a "Severo Ochoa Centre of Excellence", the highest level of recognition for centres of excellence in Spain.
About the BRTA
The BRTA is an alliance formed by 4 collaborative research centers (CIC bioGUNE, CIC nanoGUNE, CIC biomaGUNE and CIC energiGUNE) and 12 technology centers (Azterlan, Azti, Ceit, Cidetec, Gaiker, Ideko, Ikerlan, Lortek, Neiker, Tecnalia, Tekniker and Vicometch), with the aim of developing advanced technological solutions for Basque companies.
With the support of the Basque Government, the SPRI Group and the Provincial Councils of the three territories, the alliance seeks to promote collaboration among its centers; to strengthen the conditions to generate and transfer knowledge to companies, contributing to their competitiveness; and to spread Basque scientific and technological capacity.
BRTA has a staff of 3,500 professionals, executes 22% of Euskadi's R&D investment, generates an annual turnover of more than 300 million euros and files 100 European and international patents per year.
See a large version of the first picture