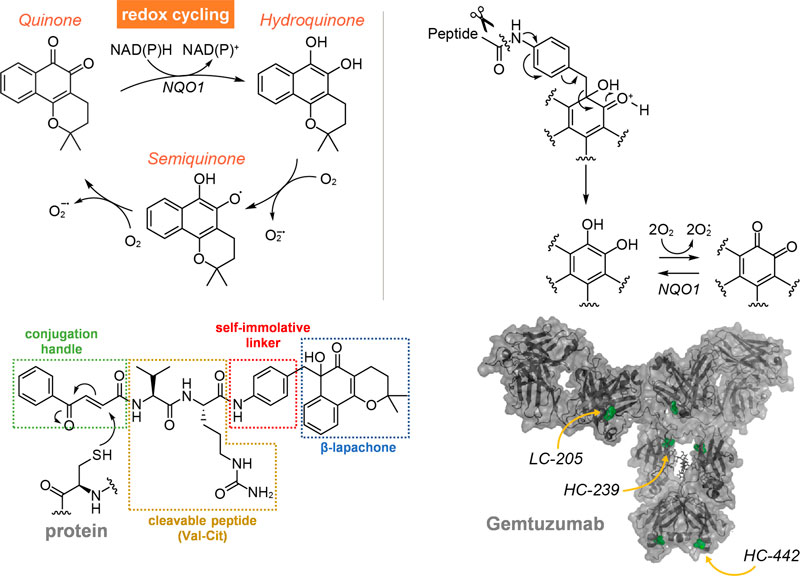 2022/07/12
CIC bioGUNE research breaks new ground in the use of natural products containing ortho-quinones as anticancer agents
The work, published in the journal Nature Chemistry, will allow the use of natural products that until now have been discarded due to their toxicity.
Ortho-quinones are highly reactive substances that can be delivered to tumour tissues by conjugation to therapeutic antibodies safely and selectively.
Research by CIC bioGUNE, a member of the Basque Research & Technology Alliance (BRTA), has shown that natural products containing ortho-quinones display considerable potential as anticancer agents.
"This research opens a window of opportunity in the clinical development of highly active compounds that until now have been discarded due to their high systemic toxicity", explains Gonzalo Jiménez Osés, Ikerbasque researcher at CIC bioGUNE. "Now", he continues, "they can be used to be delivered to tumour tissues by conjugating them to therapeutic antibodies, known as Antibody Drug Conjugates (ADCs), safely and selectively".

The success of the work, which has been published in Nature Chemistry, lies in the discovery of a new chemical reaction for the controlled release of ortho-quinone-type cytotoxic drugs (derivatives of β-lapachone, dunnione and cryptotanshinone) under enzymatic stimulation in acidic conditions typical of tumour environments. The ADCs developed in this work have shown in vivo efficacy against a xenograft murine model of acute myeloid leukaemia.
The application of new chemical entities with innovative mechanisms of action is necessary for the development of next-generation therapeutics. Natural products are often a source of anticancer agents. However, many natural products identified with medicinal value in vitro remain underexploited due to their high toxicity in vivo. Using a novel protection/conjugation and deprotection/release strategy centred on a not previously described pH-sensitive self-immolative 1.6-elimination mechanism, this toxicity has been masked until the precise moment of release into the target tumour tissue.
The most obvious potential application of the concepts presented in this research is in the development of selective cancer drugs and therapies.
The work has been carried out by the research group of Gonzalo Jiménez Osés at CIC bioGUNE, in collaboration with the University of Cambridge, Universidade de Lisboa, AstraZeneca and the University of Jena.
About CIC bioGUNE
The Centre for Cooperative Research in Biosciences (CIC bioGUNE), located in the Bizkaia Technology Park, is a biomedical research organisation conducting cutting-edge research at the interface between structural, molecular and cell biology, with a particular focus on the study of the molecular bases of disease, for use in the development of new diagnostic methods and advanced therapies.
About Ikerbasque
Ikerbasque - the Basque Foundation for Science - was created as the result of an initiative of the Basque Government Department of Education to further strengthen its commitment to scientific research by attracting, bringing to the Basque Country and subsequently consolidating excellent researchers from all over the world. Today, Ikerbasque is a consolidated organisation with 290 researchers working in all fields of knowledge.
About the BRTA
The BRTA is an alliance made up of 4 collaborative research centres (CIC bioGUNE, CIC nanoGUNE, CIC biomaGUNE and CIC energiGUNE) and 12 technology centres (Azterlan, Azti, Ceit, Cidetec, Gaiker, Ideko, Ikerlan, Lortek, Neiker, Tecnalia, Tekniker and Vicometch), with the aim of developing advanced technological solutions for Basque companies.
With the support of the Basque Government, the SPRI Group and the Provincial Councils of the three regional provinces, the alliance seeks to promote collaboration among its centres, to strengthen the conditions to generate and transfer knowledge to companies, contributing to their competitiveness, and to spread Basque scientific and technological capacity outside of the Basque Country.
BRTA has a staff of 3,500 professionals, accounts for 22% of the Basque Country's R&D investment, generates an annual turnover of over EUR 300 million and files 100 European and international patents per year.
See a large version of the first picture