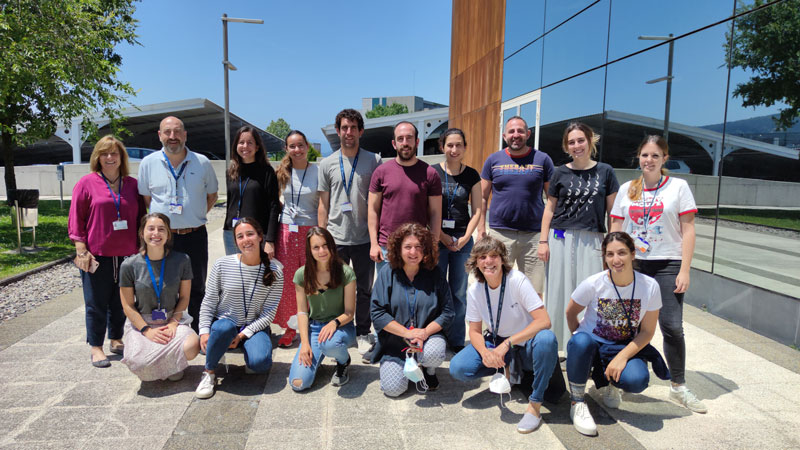 2021/09/30
Therapeutic protein silencing reduces the likelihood of liver failure in older transplant donors
Hepatic ischaemia-reperfusion injury is the leading cause of early organ failure after transplant.
MCJ protein silencing emerges as a new therapy to prevent liver failure after ischaemia-reperfusion in models of metabolic syndrome and ageing.
The study has been published in the international journal Hepatology, one of the most prestigious in its field.

(Bilbao, 30 September 2021). Liver transplant is the only curative treatment for acute liver failure and end-stage liver disease. Since its main limitation is the scarcity of available organs, a major effort has been made in recent decades to broaden the criteria for the use of organs, including those from elderly donors and/or from cardiac death.
In addition, strategies have also been pursued to improve the quality of these organs and to reduce the risk of their malfunctioning after transplant. However, as life expectancy and the prevalence of obesity and non-alcoholic fatty liver disease (NAFLD) have increased rapidly in the general population, the incidence of donors with steatotic livers has also increased. The relationship between this type of donor and liver transplant outcomes has been associated with a higher rate of early organ dysfunction.
The study, led by Dr Malu Martínez Chantar's Liver Disease Laboratory (CIC bioGUNE and the Biomedical Research Centre Network for Liver and Digestive Diseases - CIBEREHD), has characterised the effects of silencing the MCJ protein in preclinical models of ischaemia and reperfusion and liver regeneration. The work has focused on metabolically compromised animals with fatty liver and ageing, as is currently the case in the liver transplant clinic.
In general, liver cell-specific silencing of MCJ increases ATP production and thus prevents characteristic mitochondrial depletion. This improves regenerative impairment and reduces susceptibility to ischaemia of "marginal" organs (steatotic livers or those from very old donors), making them suitable for liver surgery and liver transplantation, says Dr Martínez Chantar.
As Naroa Goikoetxea-Usandizaga, a researcher in the Liver Disease Laboratory at CIC bioGUNE and first author of this study, further explains, "this molecule opens up an unexplored therapeutic window for its use in liver transplantation."
The article has been contributed to by Dr. Marta Varela, and has been written in collaboration with Dr. Jon Mabe (Tekniker), Dr. Jordi Gracia (IDIBAPS), Dr. Óscar Lorenzo (Jiménez Díaz Foundation - Autonomous University of Madrid), Dra. Paloma Martín-Sanz (Institute of Biomedical Research - IIB), Alberto Sols (CSIC-UAM) Dr. Nicola G A Abrescia (CIC bioGUNE), Dr. Guadalupe Sabio (National Cardiovascular Research Centre - CNIC), Dr. Mercedes Rincón (University of Vermont), Dr. Juan Anguita (CIC bioGUNE), Dr. Eduardo Miñambres (Marqués de Valdecilla University Hospital - IDIVAL), Dr. César Martín (University of the Basque Country - UPV/EHU), Dr. Marina Berenguer (La Fe University and Polytechnic Hospital), Dr. Isabel Fabregat (University of Barcelona, L'Hospitalet and Bellvitge Institute of Biomedical Research -IDIBELL), Dra. Marta Casado (Valencia Institute of Biomedicine, IBV-CSIC), Dr. Carmen Peralta (August Pi i Sunyer Institute of Biomedical Research - IDIBAPS) and other national and international researchers from these institutions.
About CIC bioGUNE
The Centre for Cooperative Research in Biosciences (CIC bioGUNE), member of the Basque Research & Technology Alliance (BRTA) and located in the Bizkaia Technology Park, is a biomedical research organisation conducting cutting-edge research at the interface between structural, molecular and cell biology, with a particular focus on the study of the molecular bases of disease, for use in the development of new diagnostic methods and advanced therapies.
About the BRTA
The BRTA is an alliance made up of 4 collaborative research centres (CIC bioGUNE, CIC nanoGUNE, CIC biomaGUNE and CIC energiGUNE) and 12 technology centres (Azterlan, Azti, Ceit, Cidetec, Gaiker, Ideko, Ikerlan, Lortek, Neiker, Tecnalia, Tekniker and Vicometch), with the aim of developing advanced technological solutions for Basque companies.
With the support of the Basque Government, the SPRI Group and the Provincial Councils of the three regional provinces, the alliance seeks to promote collaboration among its centres, to strengthen the conditions to generate and transfer knowledge to companies, contributing to their competitiveness, and to spread Basque scientific and technological capacity outside of the Basque Country.
BRTA has a staff of 3,500 professionals, accounts for 22% of the Basque Country's R&D investment, generates an annual turnover of over EUR 300 million and files 100 European and international patents per year.
CIC bioGUNE, member of the Basque Research & Technology Alliance (BRTA)
About the CIBEREHD
CIBER (the Biomedical Research Centre Network), co-funded by the European Regional Development Fund (ERDF), is part of the Instituto de Salud Carlos III/ Carlos III Health Institute of the Ministry for Science, Innovation and Universities.
See a large version of the first picture