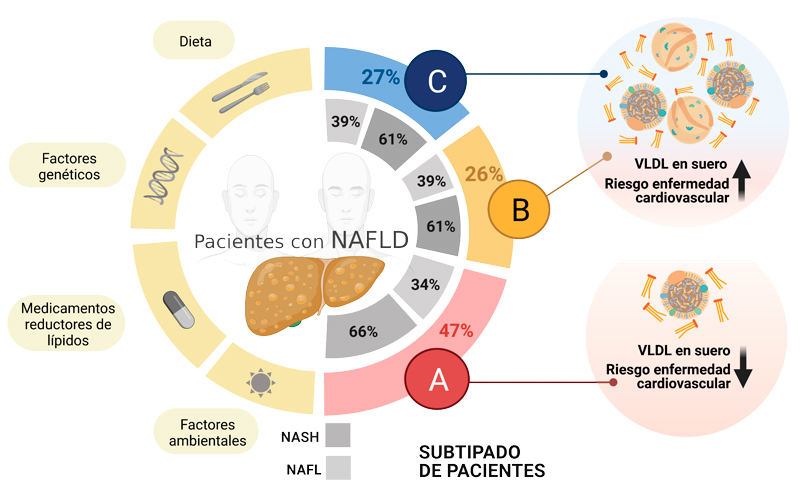 2022/03/28
Nonalcoholic fatty liver disease subtypes exhibit distinctive cardiovascular risk profiles
Nonalcoholic fatty liver disease (NAFLD), a disease affecting approximately one-quarter of the world's adult population, reflects dysfunctional hepatic lipid metabolism. An international team of researchers, led by José M Mato at CIC bioGUNE-BRTA, has discovered the existence of three subtypes of NAFLD with different lipidomic phenotypes and risk of cardiovascular disease.
The study is published online in Hepatology and can be accessed via this link (http://doi.org/10.1002/hep.32427).
The research team -which included first authors Ibon Martínez-Arranz, Chiara Bruzzone and Mazen Noureddin, and investigators from OWL Metabolomics, CIC bioGUNE-BRTA, CIBEREHD, Cedars-Sinai Medical Center, Washington University School of Medicine, Biodonostia Research Institute, Charles University, Marqués de Valdecilla University Hospital, Saaland University, Medical University of Warsaw, Netherlands Organization of Applied Scientific Research, Alcalá University, Galmed Pharmaceuticals, University Hospital of Valladolid, University of Florida, and University of Newcastle- examined whether NAFLD could be subclassified in different subtypes according to their serum lipidomic signatures.
The researchers analyzed serum lipidomes from an international cohort of 1154 individuals with biopsy proven NAFLD. Metabolomic signatures identify three NAFLD subtypes (A, B, and C), independent of histological disease severity. NAFLD subtypes show distinct secretion rates of very low-density lipoproteins (VLDL), being lowest in subtype A. Moreover, these signatures align with known cardiovascular disease (CVD) and genetic risk factors with subtype A exhibiting a lower CVD risk profile. This may account for the variation in hepatic versus cardiovascular outcomes, offering novel, clinically relevant, risk stratification.
"In this publication we demonstrate that NAFDL arises through different alterations in hepatic lipid metabolism, which opens the door to the development of more personalized treatments", said José Mato.
Additional authors include Cristina Alonso, Nicholas Davidson, Oscar Millet, Quentin Anstee, Shelly Lu, Marco Arrese, Kenneth Cusi, Javier Crespo, Jesús Banales, Manuel Romero, Elisabetta Bugianesi, Radan Bruha and Robert Kleemann.

About CIC bioGUNE
The Centre for Cooperative Research in Biosciences (CIC bioGUNE), located in the Bizkaia Technology Park, is a biomedical research organisation conducting cutting-edge research at the interface between structural, molecular and cell biology, with a particular focus on the study of the molecular bases of disease, for use in the development of new diagnostic methods and advanced therapies.
About BRTA
The BRTA is an alliance made up of 4 collaborative research centres (CIC bioGUNE, CIC nanoGUNE, CIC biomaGUNE and CIC energiGUNE) and 12 technology centres (Azterlan, Azti, Ceit, Cidetec, Gaiker, Ideko, Ikerlan, Lortek, Neiker, Tecnalia, Tekniker and Vicometch), with the aim of developing advanced technological solutions for Basque companies.
With the support of the Basque Government, the SPRI Group and the Provincial Councils of the three regional provinces, the alliance seeks to promote collaboration among its centres, to strengthen the conditions to generate and transfer knowledge to companies, contributing to their competitiveness, and to spread Basque scientific and technological capacity outside of the Basque Country.
BRTA has a staff of 3,500 professionals, accounts for 22% of the Basque Country's R&D investment, generates an annual turnover of over EUR 300 million and files 100 European and international patents per year.
See a large version of the first picture