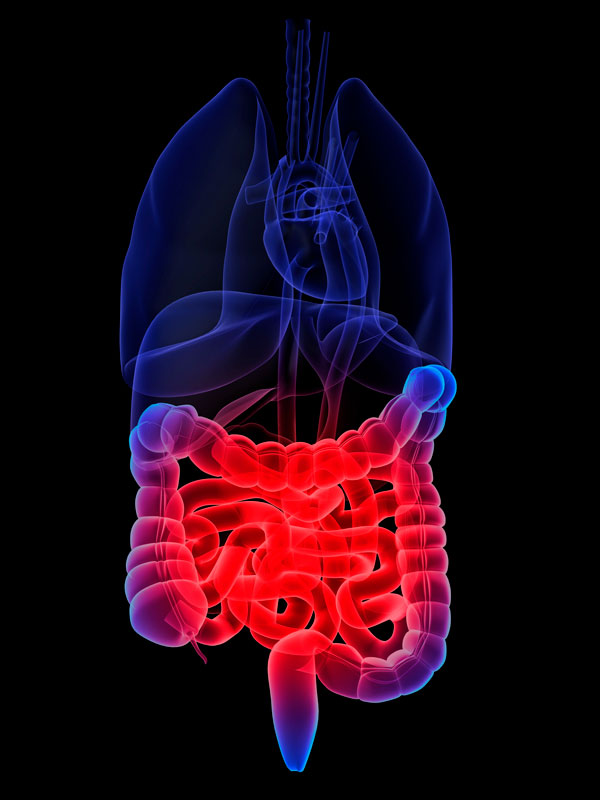 2021/11/05
Large-scale genetic study reveals new clues for the shared origins of irritable bowel syndrome and mental health disorders
The study, co-led by researchers from CIC bioGUNE, has analysed genetic data from over 50,000 patients.
The research highlights the close relationship between brain and gut health and paves the way for the development of new treatments.
An international study of more than 50,000 people with irritable bowel syndrome (IBS) has revealed that IBS symptoms may be caused by the same biological processes as conditions such as anxiety. The research highlights the close relationship between brain and gut health and paves the way for the development of new treatments.
IBS is a common condition world-wide, affecting around 1 in 10 people and causing a wide range of symptoms including abdominal pain, bloating and bowel dysfunction that can significantly affect people's everyday lives. Diagnosis is usually made after considering other possible conditions such as Crohn's disease or bowel cancer. The condition may often be hereditary and is also more common among people who are prone to anxiety. The causes of IBS are not well understood but an international team - co-led by researchers from CIC bioGUNE, a member of the Basque Research and Technology Alliance (BRTA) - has now identified several genes that provide clues into the origins of IBS.
The research team, including more than 40 institutions, looked at genetic data from 40,548 IBS patients from the UK Biobank and 12,852 from the Bellygenes initiative, a world-wide study aiming to identify genes linked to IBS and coordinated by Mauro D'Amato, Ikerbasque Research Professor and Head of the Gastrointestinal Genetics Laboratory at CIC bioGUNE. The IBS patients were compared to 433,201 people without IBS (controls), focusing on individuals of European ancestry. The findings were replicated in de-identified data from customers of the genomics company 23andMe Inc., comparing 205,252 people with IBS to 1,384,055 controls.
The results showed that overall, IBS heritability (how much your genes influence the likelihood of developing a particular condition) is low, which likely indicates the importance of environmental factors such as diet, stress and patterns of behaviour that may also be shared in the family environment.
However, 6 genetic differences (influencing the genes NCAM1, CADM2, PHF2/FAM120A, DOCK9, CKAP2/TPTE2P3 and BAG6) were more common in people with IBS than in controls. As IBS symptoms affect the gut and bowel, it would be expected that genes associated with increased risk of IBS would be expressed in these organs, but this was not what the researchers found. Instead, the altered genes are either predominantly expressed in brain tissue, or in nerves within the gut that receive their signals from the brain.
"IBS represents a remarkable challenge for genetic studies on account of its complexity and the need to analyse a very large number of patients to ensure powerful statistical analyses", explains geneticist Mauro D'Amato. "In recent years, we have made a great effort to set up and coordinate the Bellygenes initiative, collaborating with numerous partners around the world. These initial findings have been long awaited, and finally tell us this type of research is worth the struggle", concludes the researcher from CIC bioGUNE.
Common mood disorders
Researchers also looked for overlap between susceptibility to IBS and other illnesses. They found that the same genetic make-up that puts people at increased risk of IBS also increases the risk of common mood disorders such as anxiety, depression and neuroticism, as well as insomnia.
However, the researchers stress that this doesn't mean that anxiety causes IBS symptoms or vice versa. Study co-lead and consultant gastroenterologist Professor Miles Parkes, from the University of Cambridge, explains: "IBS is a common problem, and its symptoms are real and debilitating. Although IBS occurs more frequently in those who are prone to anxiety, we don't believe that one causes the other: our study shows these conditions have shared genetic origins, with the affected genes possibly leading to physical changes in brain or nerve cells that, in turn, cause symptoms in the brain and in the gut."
Current treatments for IBS vary widely and include dietary changes, prescription medications targeting the gut or brain, or behavioural interventions. First author Chris Eijsbouts suggests that the study findings indicate that therapies that target neuronal function may be a possible future avenue for research. He continues: "We anticipate that future research will build on our discoveries, both by investigating the target genes identified and exploring the shared genetic risk across conditions to improve understanding of the disordered brain-gut interactions which characterise IBS."
This research received funding and support from the Spanish Ministry for Economic Affairs and Digital Transformation (Instituto Salud Carlos III), the Basque Government Department of Health, the Swedish Research Council (Vetenskapsradet), the Biomedical Research Centres of the National Institute for Health Research (NIHR) in Cambridge, Oxford, Nottingham and Manchester, the Wellcome Trust and the Li Ka Shing Foundation in the UK.
Notes for editors
The paper will be published in Nature Genetics. DOI for this paper will be 10.1038/s41588-021-00950-8
About the Bellygenes initiative
The Bellygenes initiative, coordinated by Professor Mauro D'Amato, is a large international research study investigating the genetic make-up of more than 1 million people across Europe and the US, to identify genetic factors contributing to IBS predisposition. The study hopes to unveil pathophysiological pathways that can help explain the etiology of IBS, inform a molecular reclassification of patients, and ultimately provide novel biological targets for increased therapeutic precision.
About CIC bioGUNE
The Centre for Cooperative Research in Biosciences (CIC bioGUNE), based in the Bizkaia Technology Park, is a biomedical research organisation conducting cutting-edge research at the interface between structural, molecular and cell biology, with a particular focus on studying the molecular bases of disease, for use in the development of new diagnostic methods and advanced therapies.
About the BRTA
The BRTA is an alliance made up of 4 collaborative research centres (CIC bioGUNE, CIC nanoGUNE, CIC biomaGUNE and CIC energiGUNE) and 12 technology centres (Azterlan, Azti, Ceit, Cidetec, Gaiker, Ideko, Ikerlan, Lortek, Neiker, Tecnalia, Tekniker and Vicometch), with the aim of developing advanced technological solutions for Basque companies.
With the support of the Basque Government, the SPRI Group and the Provincial Councils of the three regional provinces, the alliance seeks to promote collaboration among its centres, to strengthen the conditions to generate and transfer knowledge to companies, thereby contributing to their competitiveness, and to project Basque scientific and technological capacity abroad.
BRTA has a staff of 3,500 professionals, accounts for 22% of the Basque Country's R&D investment, generates an annual turnover of over EUR 300 million and files 100 European and international patents per year.
About Ikerbasque
Ikerbasque - the Basque Foundation for Science - was set up on the initiative of the Basque Government Department of Education to strengthen the commitment to scientific research by attracting, bringing back and consolidating researchers of excellence from all over the world. Today, Ikerbasque is a consolidated reality, with 290 researchers working in all fields of knowledge.
See a large version of the first picture