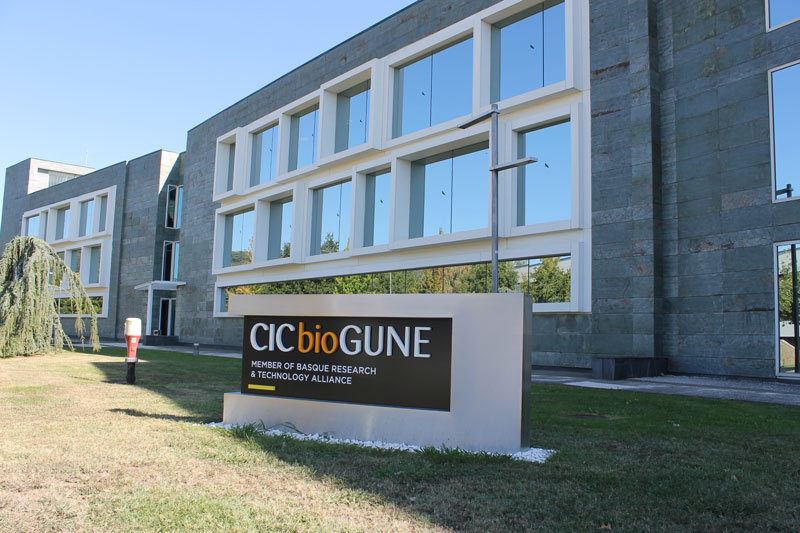 2022/11/07
CIC bioGUNE, recognized with the "Severo Ochoa Center of Excellence" distinction by the Ministry of Science and Innovation
The accreditation is the highest recognition for a research center in Spain.
The evaluation process has been carried out by an international scientific committee constituted by scientists of recognized prestige and impact.
It is valid for 4 years, from January 1, 2023 to December 31, 2026, and includes a grant of 4 million € for this period.
The Ministry of Science and Innovation has recognized CIC bioGUNE as a "Severo Ochoa Center of Excellence", the highest distinction for research centers in Spain. The objective of this honor is to finance and accredit research centers that demonstrate impact and scientific leadership at an international level and that actively collaborate in their social and business environment. In this way, it renews an accreditation that it held between 2017 and 2021.
The Severo Ochoa centers of excellence are organizational structures with highly competitive research programs, ranked among the best in the world in their respective scientific areas.
The evaluation and selection process is carried out independently by an international scientific committee, constituted by scientists of recognized prestige and impact.
The accreditation is valid for four years, from January 1, 2023 to December 31, 2026, with the possibility of renewal, and includes a grant of one million euros per year during this period. CIC bioGUNE will allocate this investment to strengthening applied research, as well as to the generation of fundamental and oriented knowledge in life sciences, the training of talent and the improvement of its public and social visibility. In addition, the granting of the accreditation includes 10 new four-year predoctoral contracts.
CIC bioGUNE has met the requirements of excellence, which are characterized by a high level of impact and competitiveness in its field of activity on the world scientific scene. Likewise, CIC bioGUNE periodically submits its research activities to scientific evaluation processes through external and independent scientific committees and develops its research activities according to a strategic program that responds to the generation of frontier knowledge. The training activities, selection and attraction of human resources are carried out at an international level. Moreover, CIC bioGUNE maintains active collaboration and exchange agreements at an institutional level with high-level research centers and promotes the activities of transfer and dissemination of knowledge to society.
About CIC bioGUNE
The Centre for Cooperative Research in Biosciences (CIC bioGUNE), member of the Basque Research & Technology Alliance (BRTA) and located in the Bizkaia Technology Park, is a biomedical research organisation conducting cutting-edge research at the interface between structural, molecular and cell biology, with a particular focus on the study of the molecular bases of disease, for use in the development of new diagnostic methods and advanced therapies.
About the BRTA
The BRTA is an alliance made up of 4 collaborative research centres (CIC bioGUNE, CIC nanoGUNE, CIC biomaGUNE and CIC energiGUNE) and 12 technology centres (Azterlan, Azti, Ceit, Cidetec, Gaiker, Ideko, Ikerlan, Lortek, Neiker, Tecnalia, Tekniker and Vicometch), with the aim of developing advanced technological solutions for Basque companies.
With the support of the Basque Government, the SPRI Group and the Provincial Councils of the three regional provinces, the alliance seeks to promote collaboration among its centres, to strengthen the conditions to generate and transfer knowledge to companies, contributing to their competitiveness, and to spread Basque scientific and technological capacity outside of the Basque Country.
BRTA has a staff of 3,500 professionals, accounts for 22% of the Basque Country's R&D investment, generates an annual turnover of over EUR 300 million and files 100 European and international patents per year.
See a large version of the first picture