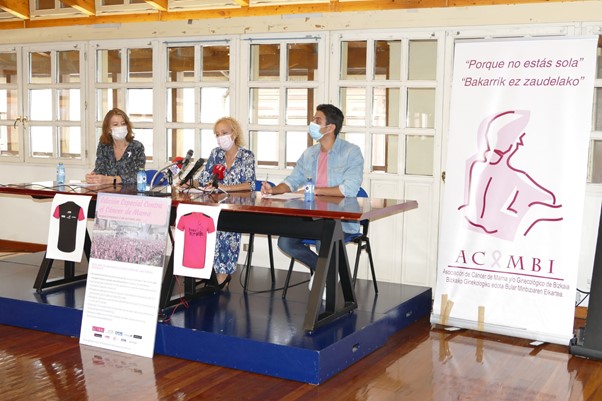 2021/10/04
ACAMBI run again in Bilbao!
The run against breast cancer organized every year for ACAMBI will take place next October 17th 2021. Due to the pandemic, the format will be different, special, but the inspiration is the same, to raise awareness of the relevance of exercise and the need for further research to fight breast cancer.
The presentation of the run took place on September 29th in Bilbao, including the vice-president of ACAMBI, the director of the Urtzi Gym and Maria dM Vivanco, from CIC bioGUNE.
Breast cancer alone accounts for 30% of female cancers and recent reports have revealed that breast cancer remains the most diagnosed female cancer and the first cause of death from cancer in women. Breast cancer is a heterogeneous disease, including diversity among tumours from different patients, but also within a patient´s tumour, which can complicate diagnosis and prognosis and challenge therapy. Tumours include a variety of cells, including cells with properties of stem cells, which have been shown to be implicated in tumour initiation and recurrence.
The Project in progress in the Vivanco group at CIC bioGUNE is studying breast cancer stem cells and their role in development of resistance to hormone therapy, as well as reciprocal interaction with the tumour environment. This research will contribute to characterise novel biomarkers of resistance, further our knowledge of the complex process underlying development of resistance to therapy and, as a consequence, lay the foundation for the future development of improved therapies.
See a large version of the first picture