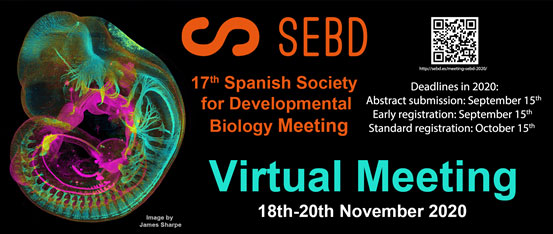 2020/11/24
17th Meeting of the Spanish Society for Developmental Biology
For the 18th to the 20th of November 2020, the "17th Meeting of the Spanish Society for Developmental Biology" took place in virtual format, organized by CIC bioGUNE, the University of the Basque Country and the University of Cantabria. The meeting was going to take place in Bilbao in the same dates, but this was not possible due to the sanitary situation.
The main purpose of the Spanish Society for Developmental Biology (SEBD) is to promote the scientific activity in the field of Developmental Biology and to promote exchange of knowledge within the community of Spanish Developmental Biologists and internationally. Different thematic sessions were organized, that ranged from the study of the most basic processes of development (Self organization, Growth & Scaling, Cell Biology, Evo-Devo, Genomes), to the consequences of the deregulation of these processes, such are developmental and rare human diseases (Neurodevelopment, Development & Disease, Regeneration).
An extra effort from the organization was done to facilitate telematic tools for communication, including live presentations broadcasted by streaming, live Q&A sessions, Slack channels for specific discussion on each poster and talk and Remo sessions for informal discussions among participants.
The Meeting gathered about 280 registrants and received 132 Abstracts. The Meeting included 9 invited oral presentations, 16 short presentations selected from Abstracts, 31 Flash Talk presentations and 115 posters. Invited speakers included 1st figures of the Developmental Biology Area, as Prof Maria Leptin (EMBL, Director), Prof Mónica Bettencourt-Dias (Gulbenkian Institute, Director) or Prof Naoki Irie (University of Tokyo). Posters were visible in pdf format, and in many cases were accompanied by explanatory audio or video. Oral presentations will be available for up to one week at the virtual platform.
In addition to the Meeting provided additional events, including a Workshop on the new forms of peer reviewing and publishing, another Workshop on animal experimentation, an Outreach session for high school students, and an informative session on the DrosAfrica initiative. Also, a tribute to Prof. José Luis Gómez-Skarmeta, recently deceased, commemorated this extraordinary researcher. At the end of the meeting, the winners of the "Jose Luis Gómez-Skarmeta award to Scientific excellence in Developmental Biology" for young PIs, the "SEBD Awards for scientific excellence in doctoral theses", as well as the winners for the best poster presentations and the Photography Competition, were revealed.
More information:
See a large version of the first picture